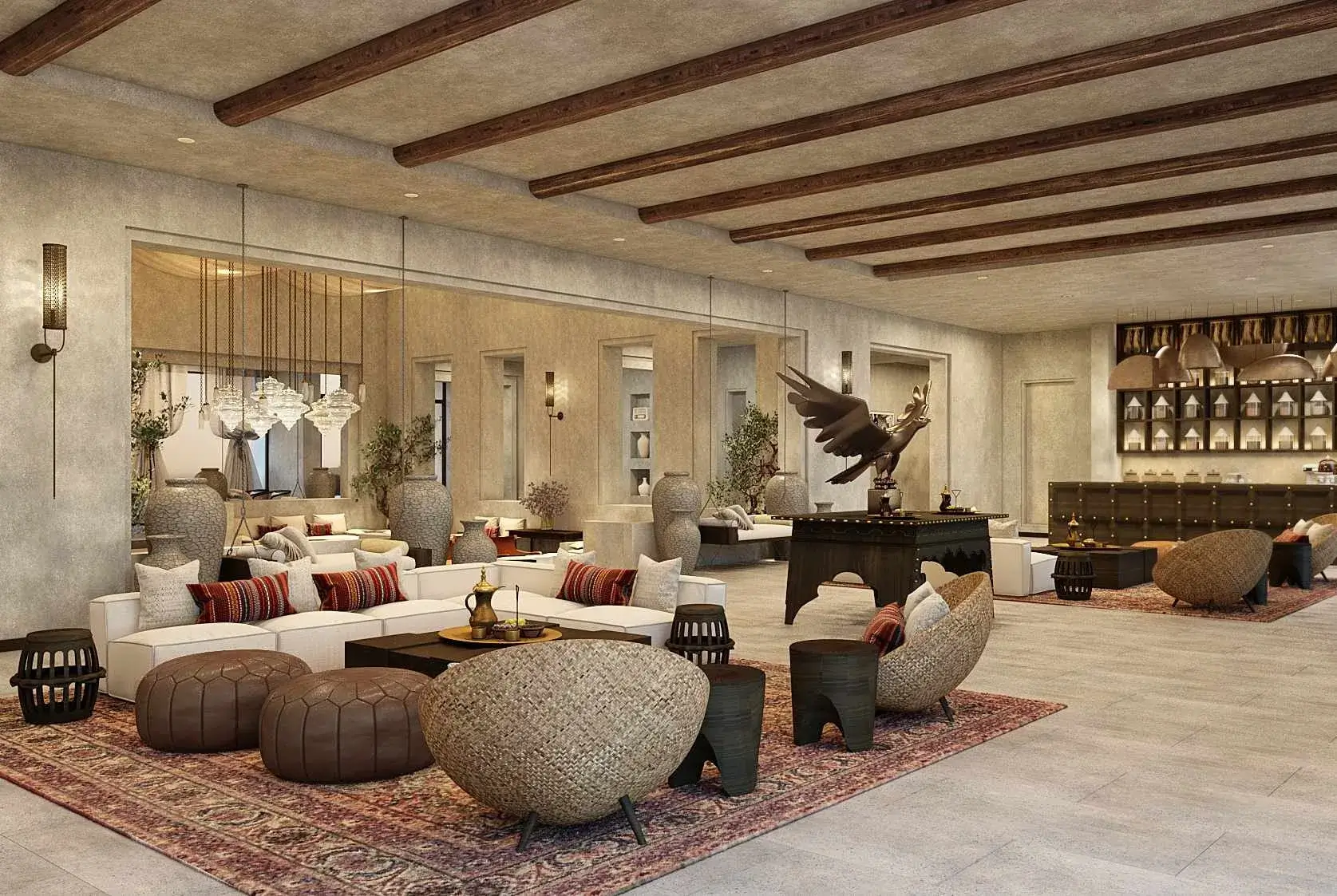 Hotel interior design: Lobby & welcoming first impressions
For every hotel guest, the first experience of their temporary home-from-home is the lobby. Here, our design director Dina Murali, who delivered many inspiring hotel interior designs in Dubai and the wider UAE, shares her thoughts on showcasing the hotel lobby.
While guestrooms or suites, restaurants and bars, facilities and location may be the reason the booking was first made, it's vital to give off that great first impression.
The immediate environment needs to be as welcoming as possible, the service as efficient as can be, and the ambience just right for the visitor to feel at home and at ease – whether they are on holiday, on a business trip, or just looking for a place to rest and recuperate as they travel onwards.
How many people, on arrival take a picture of their new surroundings? Quite a few.
This image might just be for family and friends, but any visuals can quickly find their way onto social media – so a wide audience gets to see what exactly a guest is walking into on arrival.
Something that looks great and radiates warm and welcome might just provide the spark needed for further bookings by impressed viewers – but an austere, dull and empty environment is not going to inspire anyone to come along soon.
How about a few ideas which won't break the bank but will make the lobby space a real part of the guest experience?
1. Technology as part of hotel interior design
Innovations are rapidly assisting otherwise stressed and overworked staff – giving individual attention to guests and accommodating individual needs, For instance, Cruzr, a humanoid robot offers greetings, facilitates check-ins, and even accompanies guests to the elevator, while Google Assistant offers real-time language translations.
2. F&B offerings in a hotel lobby
Food and drink bring the lobby to life, acting as a magnet for social intercourse and creating a real buzz around the entrance. Facilities don't need to be grand and with table service – a bar or coffee shop works just as well. View our F&B portfolio here
3. Making a hotel destination location
Exhibitions of art, fashion, or musical performances in the lobby space can make the hotel a destination in itself, even attracting those who are not guests but want some cultural experiences.  Providing a venue that showcases local talent is a way for the hotel to become part of the community and encourages guests to go out and explore the locality.
The lobby can be so much more than just an entrance. It can be a fundamental part of the whole visitor experience – enabling a feel-good factor for the guest when he or she first steps across the threshold.
Those Trip Advisor reviews will surely benefit.