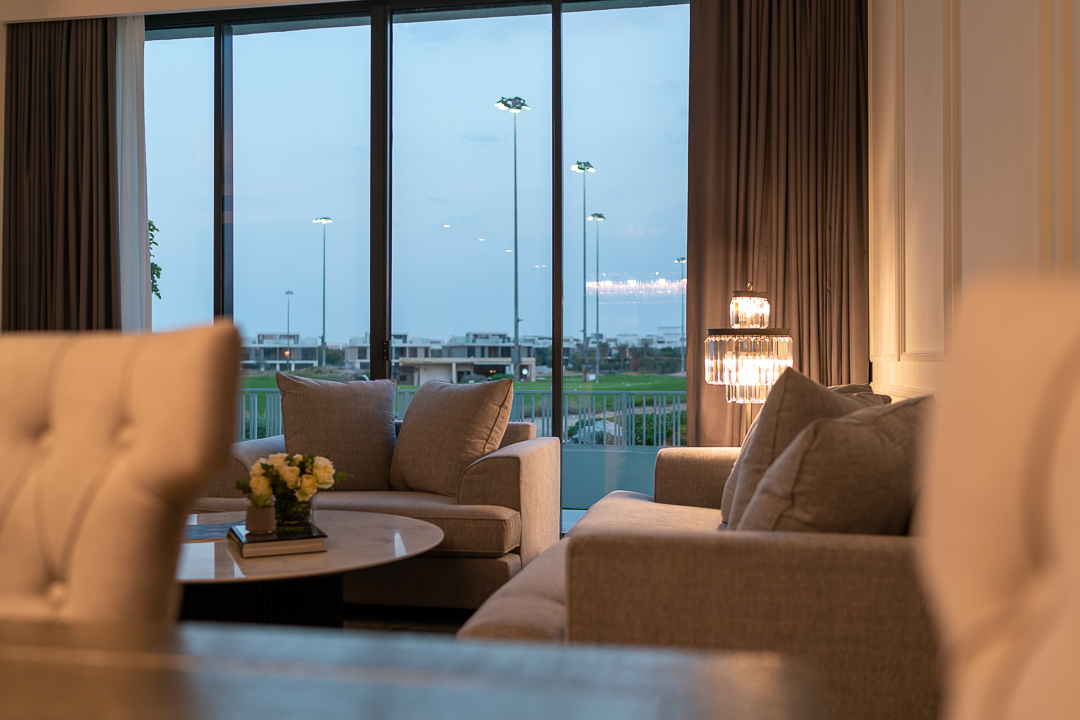 6 tips for creating luxury living room design
Highlighting one of our latest residential villa design projects in Dubai Hills, our design director, Dina Murali, shares her six tips for creating your luxury living room design. There are many ways to picture what a luxury living room design looks like in the minds of other people. Perhaps you envision a traditional room with luxury marble flooring, classic furniture, chandeliers, tufted settees, and heavy swag curtains, or maybe you prefer a modern, minimalist space with linear sofas and beautiful accent chairs, or something in between. We have something in this collection of luxury living room ideas to suit every taste and room size, no matter your ideal room. 
1. Feature wall or light
Include a luxurious feature wall in your design. A stunning focal point in an open-plan room is this towering marble wall that reaches up to the ceiling. With an eye-catching modern chandelier, you can light up the sky, or at least your living room. This lighting design resembles a celebratory fireworks display thanks to various sized forms.
2. Creating the focal point
Highlighting special features is important. In order to create a luxurious look and feel in your living room, find one or two standout pieces as your focal point. But remember, less is always more.
Whether you choose an over-sized sofa, an antique heirloom, a statement rug, or textured wallpaper, creating a focal point in your living room is a trend that's here to stay.

3. Escapism & tradition-inspired luxury
Escapism involves creating places where one can escape technology and escape the complexities of modern day life. The idea is to create a calming environment by using natural materials, lighting, and plant life. Escapism can be introduced to a space by creating unique spaces, such as reading nooks and window seats. This concept also goes well with more tradition-inspired luxury styles, such as modern Neo Clasicall or Hamptons and Coastal designs. Assemble a cozy seating arrangement. Place your sofas and chairs in a way that encourages social interaction and a feeling of cosines.
4. Transformative spaces
With the recent pandemic, living room spaces can be carefully curated to serve as both work and play zones. Reclining chairs, paired with nesting tables that can easily double up as laptop table, tech-driven furniture to plug and play, a nicely designed pull-out drawer for a laptop, are ways to design these spaces.

5. Neutrals & nature 
Make a consistent color scheme. Consider a sophisticated neutral base that can be livened up with a colorful rug, pillows, and accent furniture as well as greenery. In the living room, where a great deal of household activity occurs, it is important to have durable, and comfortable pieces of furniture.
Whether it is a good sofa or an accent lighting feature, there has been great thought put into how this space transforms from day to night. We love neutral colors with natural textures that complement them.
6. Textures & Monochrome
And speaking of textures, tinstead of focusing on what color to use for your feature wall, consider how to texture it. After you've found your solution, add some light to it for a more dramatic effect.
Furthermore, a monochrome scheme always produces a chic, cool, and collected result, regardless of how big or small your living room is. 
Have you been looking for an Interior Design Company in Dubai to work on your next hotel, villa, luxury home, or office project but feel overwhelmed by the number of options? Are you looking for a trustworthy partner who can help you get a quicker return on your investment? And what about timeless and always-on-time design concepts?
You've come to the right place! DZ Design is delighted to welcome you! We are an interior design firm based in Dubai specializing in mid-scale hospitality, luxury residential, and commercial projects.
Book your FREE consultation
Dina Murali is our design director and a key contributor to all of our projects. Dina is always approachable and available for her clients and team. She never fails to come up with that extra idea, solution, or touch, which has resulted in our designs being even better than what the client had envisioned. You can book your FREE consultation with Dina HERE.