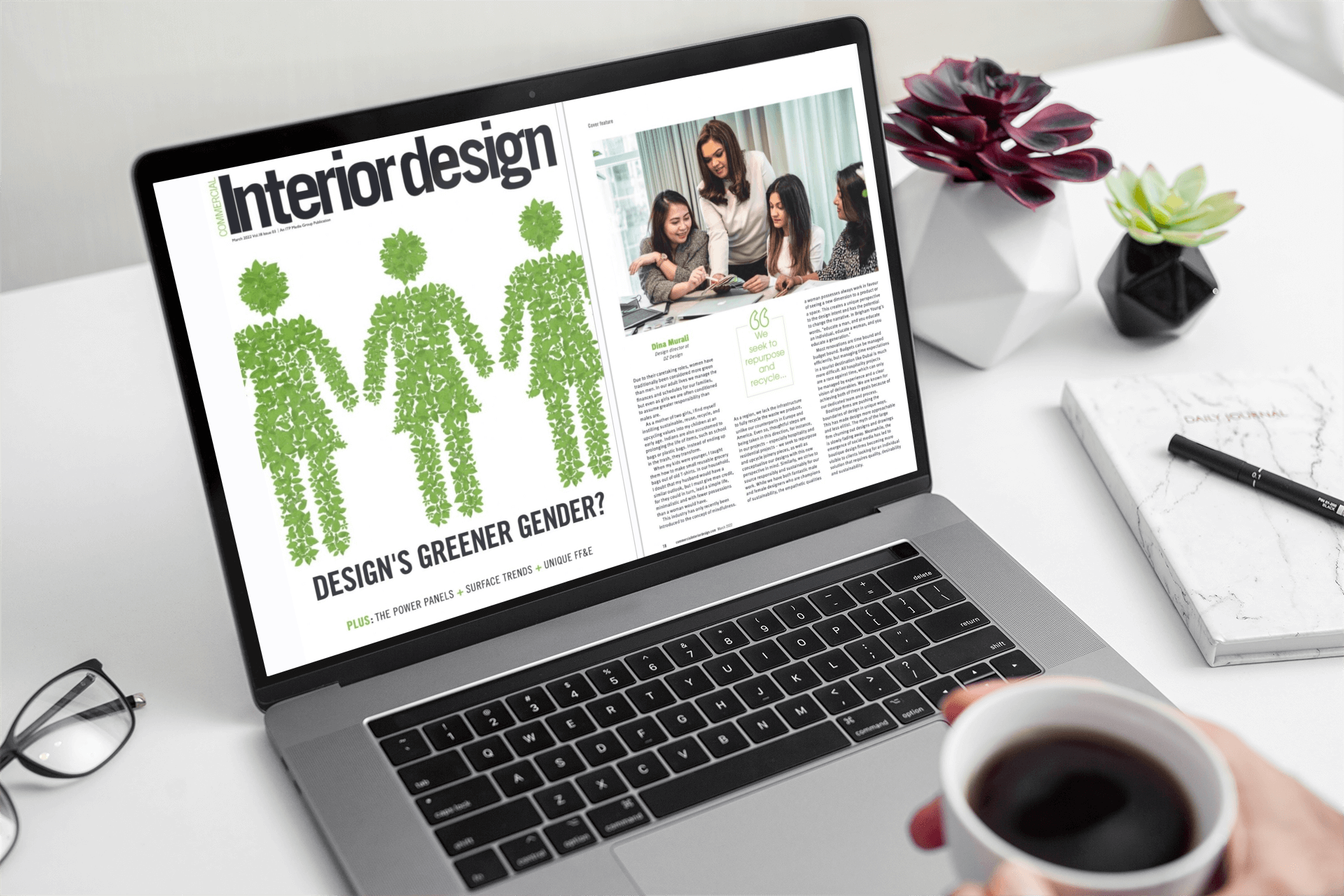 Dina Murali discusses the importance of sustainability with Commercial Interior Design magazine
Dina Murali discusses sustainability and whether there is a greener gender in the latest issue of Commercial Interior Design magazine. You can find all of Dina's answers below.
1. CID magazine: We ask is there a greener gender?
Dina Murali: Due to their caretaking roles, women have traditionally been considered more green than men. In our adult lives we manage the finances and schedules for our families, but even as girls we are often conditioned to assume greater responsibility than males.
As a mother of two girls, I find myself instilling sustainable, reuse, recycle, and upcycling values into my children at an early age. Indians are also accustomed to prolonging the life of items, such as school bags or plastic bags. Instead of ending up in the trash, they transform.
When my kids were younger, I taught them how to make small reusable grocery bags out of old T-shirts. In our household, I doubt that my husband would have a similar outlook, but I must give men credit, for they could in turn, lead a simple life, minimalistic and with fewer possessions than a woman would have.
2. CID magazine: What are the implications for the design industry?
Dina Murali: This industry has only recently been introduced to the concept of mindfulness. As a region, we lack the infrastructure to fully recycle the waste we produce, unlike our counterparts in Europe and America. Even so, thoughtful steps are being taken in this direction, for instance, in our projects – especially hospitality and residential projects – we seek to repurpose and upcycle joinery pieces, as well as conceptualise our designs with this new perspective in mind. Similarly, we strive to source responsibly and sustainably for our work.
3. CID magazine: Does sustainable design have special appeal for women, and do they in turn offer something unique to the field?
Dina Murali: While we have both fantastic male and female designers who are champions of sustainability, the empathetic qualities a woman possesses always work in favour of seeing a new dimension to a product or a space. This creates a unique perspective to the design intent and has the potential to change the narrative.
In Brigham Young's words- "educate a man, and you educate an individual, educate a woman, and you educate a generation."
4. CID magazine: Outside of gender definition, what are the key challenges that designers are facing re sustainability in commercial interior design?
Dina Murali: Most renovations are time bound and budget bound. Budgets can be managed efficiently, but managing time expectations in a tourist destination like Dubai is much more difficult. All hospitality projects are a race against time, which can only be managed by experience and a clear vision of deliverables. We are known for achieving both of these goals because of our dedicated team and process.
5. CID magazine: What have been the biggest changes, or improvements, during your time in the design sector?
Dina Murali: Boutique firms are pushing the boundaries of design in unique ways. This has made design more approachable and less elitist. The myth of the large firm churning out designs and drawings is slowly fading away. The emergence of social media has led to boutique design firms becoming more visible to clients looking for an individual solution that requires quality, desirability and sustainability.
This interview was originally published in the March 2022 issue of CID magazine as part of the Cover Story – The Greener Gender, which you can read HERE.