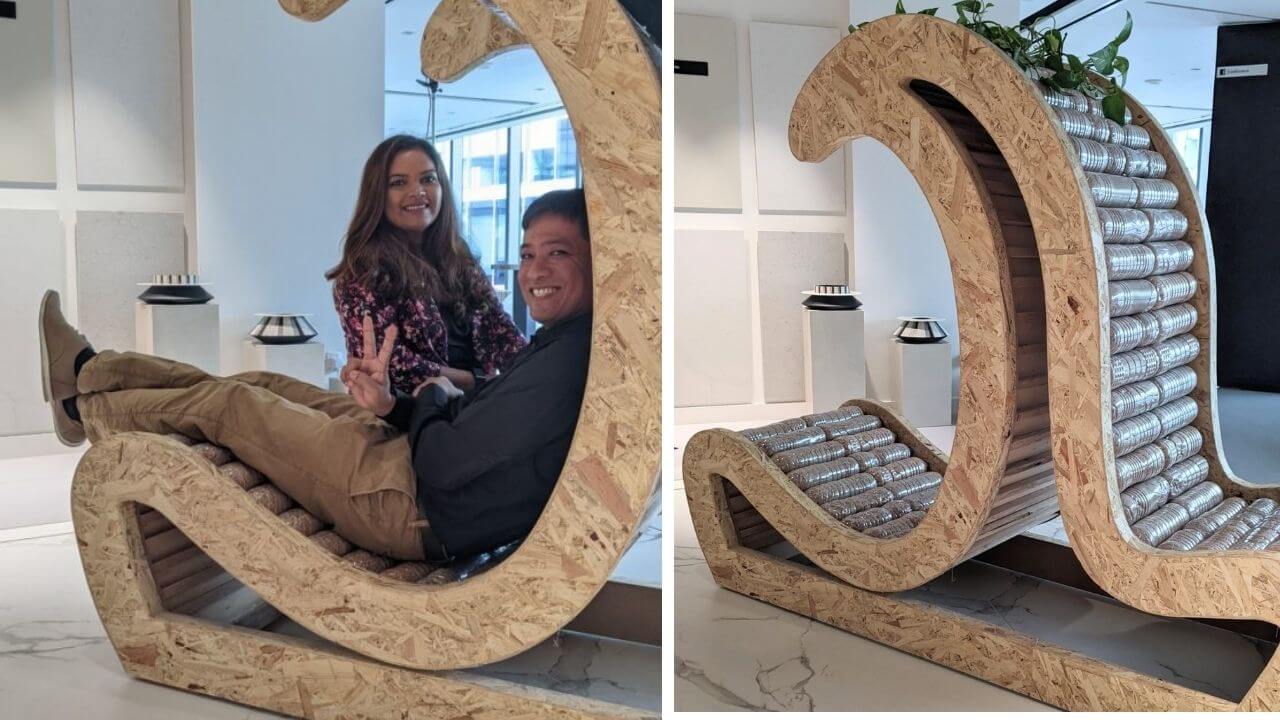 Founders of DZ Design talk sustainable design behind The Wave
The Wave seat, our sustainable design entry for this year's Surge for Water design competition, won the People's Choice Award. The public has favored our design again this year. Our founders, Dina and Zain, take us through how this sustainable design seat came about and what sparked their ideas for designing it. 
​​1.
Where did the inspiration and concept for your creation come from?
The alarming statistics and new studies surfacing every day show that our planet is literally drowning in plastic pollution. A staggering 8 million tonnes of plastic end up in the world's oceans every year, with one million plastic drinking bottles purchased every minute. And, if current trends continue, in 2050, our oceans could contain more plastic than fish. So, can design solve the world's plastic problem? And to what extent? Is recycled plastic also glamorized by designers? Finally, how can we prevent the endless production of new plastics? "The Wave" seat is designed to provoke all those hard conversations. We, as designers, want to ride the new wave of sustainability that doesn't glamorise recycled plastic, but treats it as an industrial waste. So, we decided that we would reuse plastic bottles in its actual form – raw and ugly – to create a beautiful design piece that we can all connect with whilst showing the ugliness of the product that's killing our planet.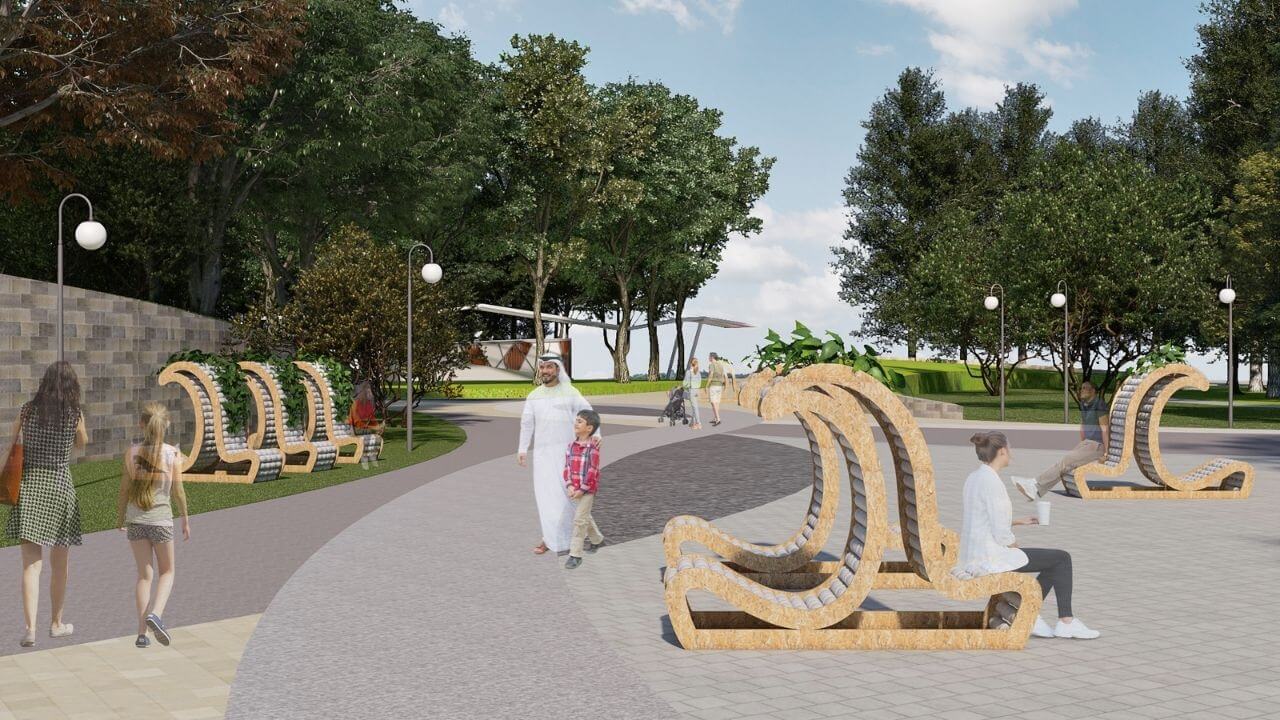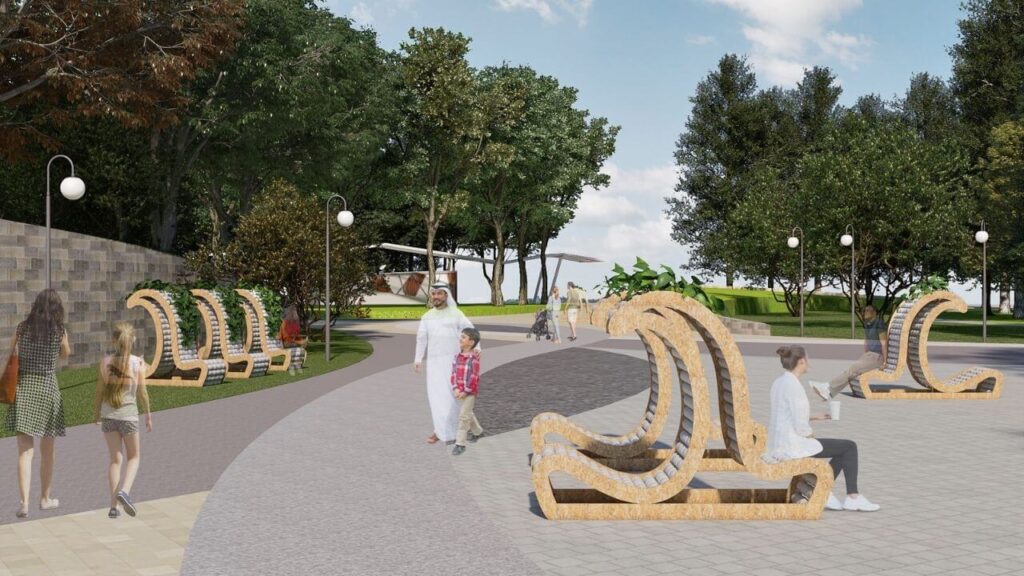 2. How did you and your team interpret the theme, "GAIA: The Mother of All Life?"
GAIA suggests that all living organisms evolve together with their environment. We looked at all four dimensions of sustainability – social, ecological, economic, and worldview – in order to understand how the world is changing and the role humans play in that change. Plastic water bottles have an environmental impact on the earth, so we deliberately chose to focus on this issue. Throughout our concept, we discuss the world's most popular disposable plastic items and the impact they have on our planet. As a consequence, we designed "The Wave", an outdoor seat that raises awareness about the impact of plastic bottles on our environment. The shape is provocative with materials being true in their essence.  
3. What is unique about the design/method/materials you have used and how are these sustainable?
We chose to work with CARVE, a Dubai-based bespoke interior fit-out and joinery, known for the quality of its craftsmanship. Their team helped us move the idea from conceptual to the material world. We wanted to translate our idea to reality, using all the waste material to demonstrate that we can stay true to the concept of GAIA during the entire manufacturing process.
We collected:
 

50 used plastic bottles from a hotel

 

Sand from Jumeriah Beach

 

Saw dust from the workshop

 

Reused OSB boards for side panels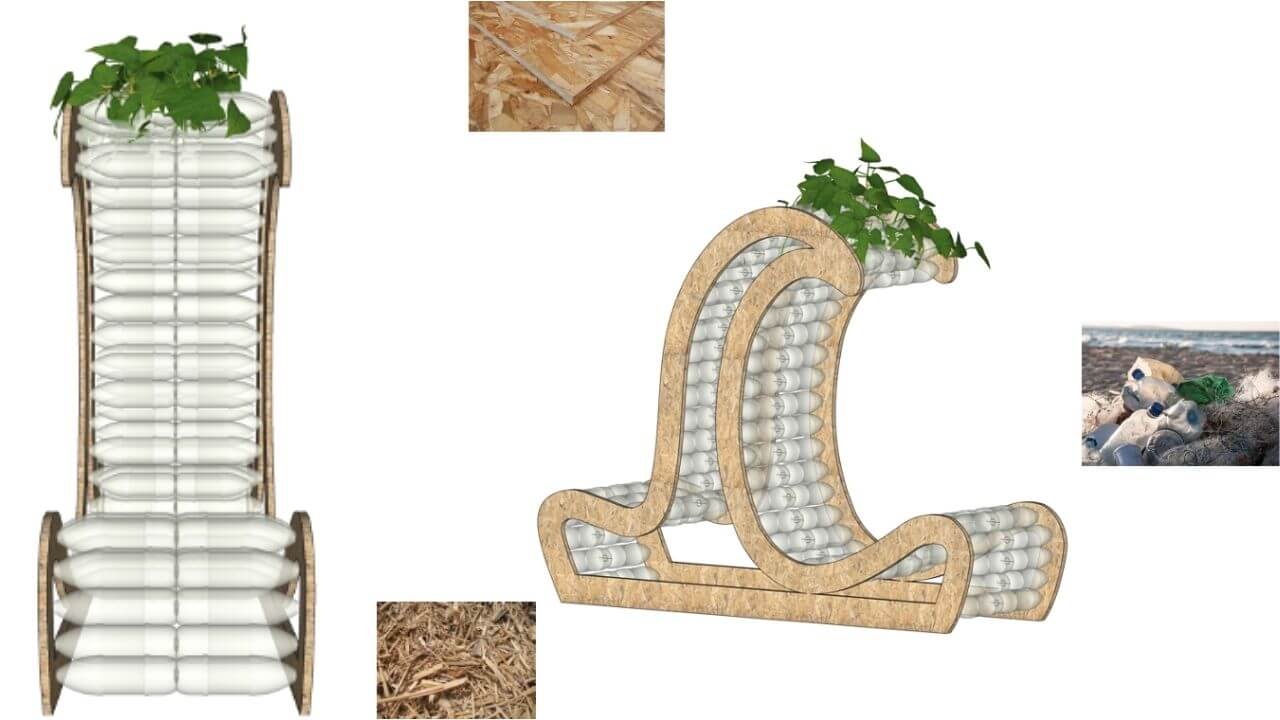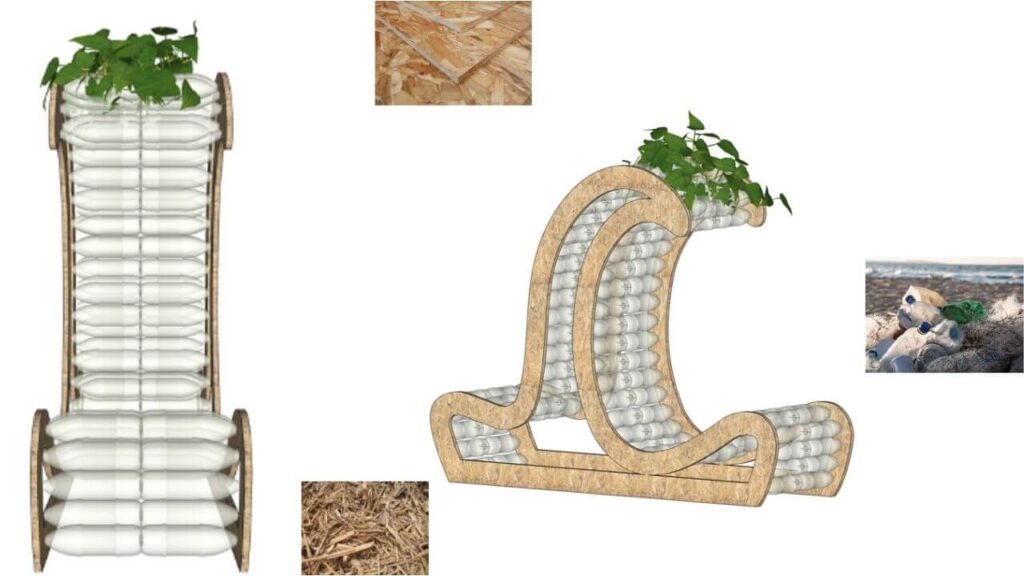 4. What have been the most challenging parts of your design?
While designing a piece, our team at DZ Design aims to reuse and recycle without altering the DNA of the material used to reduce the carbon footprint of the recycling process. We used the CNC machine only for the wave on the OSB board; the rest of the unit was built by hand and assembled in two days.
5.
How does your concept connect to Surge's mission?
A major goal of Surge is to end poverty by providing sanitation, safe water, and hygiene solutions. Most of the world is in need of water, the "source of life". Our seat "The Wave" uses the very item that's killing our planet and filling our seas with non-biodegradable waste. "The Wave" is to be used as a seat and a place of relaxation, while blending with nature. The reused bottles can hold water with soil and be used as planters.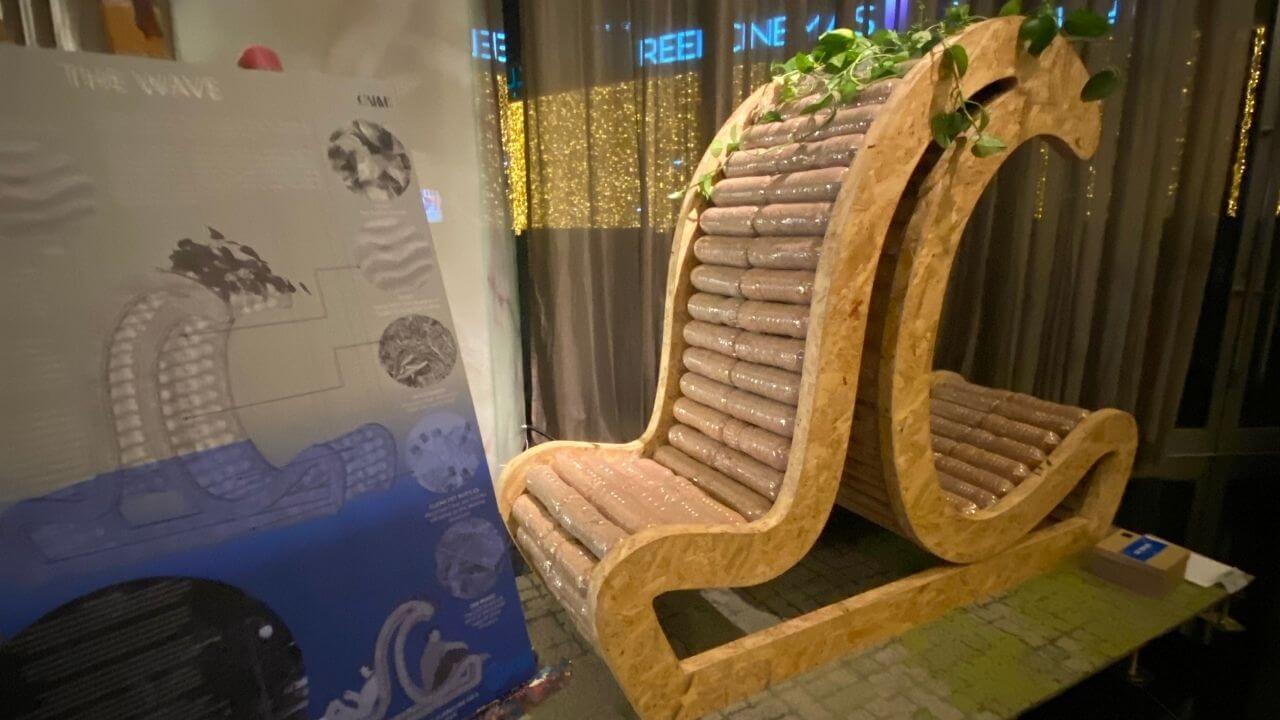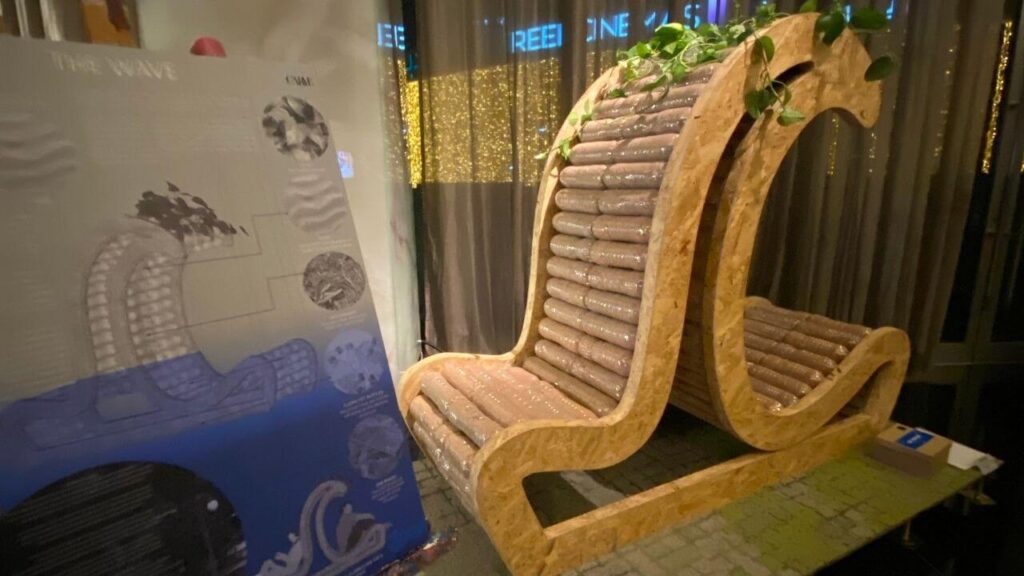 6. What is your personal relationship to Surge/the cause?
Having worked with Surge for the past three years, their team inspires us each year to think of ways to reduce waste and make more environmentally-conscious decisions in our designs. Reuse and recycling have been a focus of our latest designs – exemplified by the Citymax Hotel in Business Bay and the Pullman hotel that our team at DZ Design  is currently designing.  
Interested to see our previous submissions? Read more: Stay by DZ Design featured on Love That Design