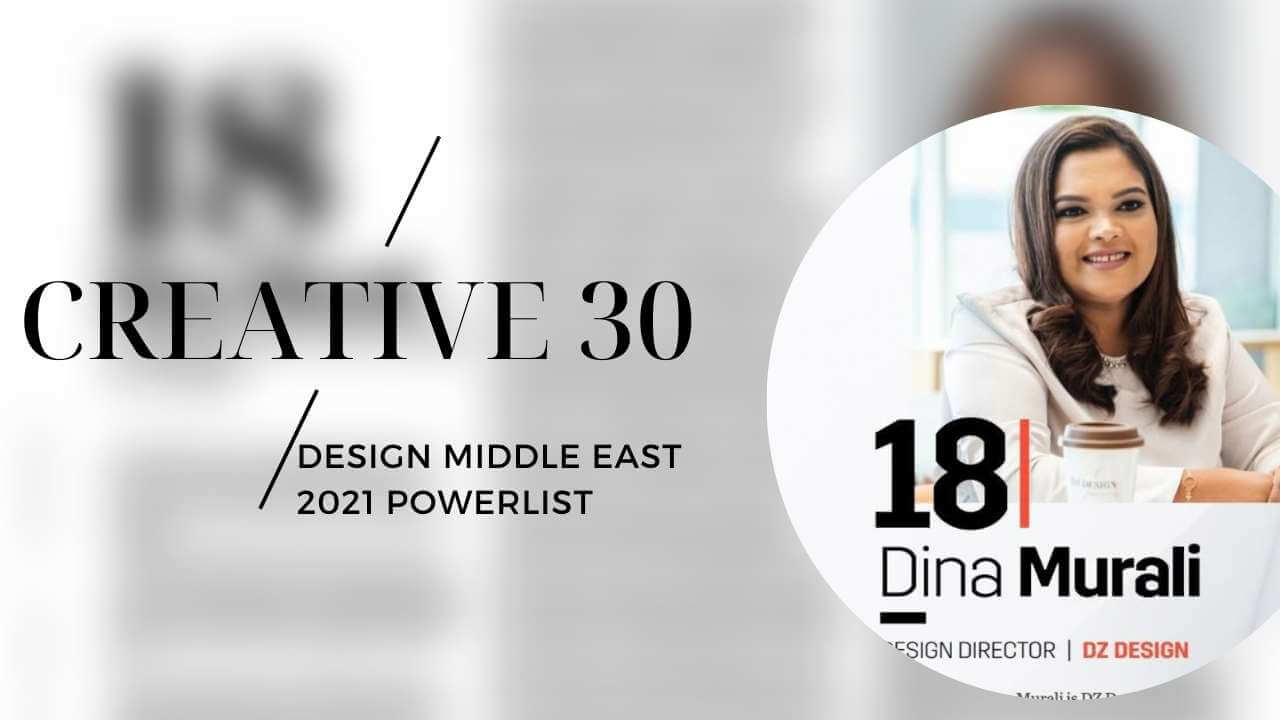 DESIGN MIDDLE EAST POWERLIST: DINA MURALI JOINS TOP 30 CREATIVES
Design Middle East magazine has just honoured the region's leading architects and designers. Its annual "Creative 30" list recognises designers for preserving the past, nourishing the present, and paving the way for a brighter future. Our design director, Dina Murali, was chosen for two consecutive years among other esteemed architects and designers working in the Middle East.
A word from Dina about this latest recognition
"It's an honour to be included in this list with so many extraordinary architects and designers whom I respect greatly.
Furthermore, I feel privileged to be collaborating and working with so many industry professionals on this list towards a mutual goal of elevating design standards in the region.
Without a doubt, Dubai is a regional centre of creative excellence and world-class designs and with us lies the responsibility to retain its status.
This recognition is also a tribute to my team and all of my colleagues at DZ Design. Because they work exceptionally well as a team, always understanding that their team's success is their own success."
Watch the video below to see the full "Creative 30" Powerlist by Design Middle East magazine.
A word from Design Middle East editor, Roma Auroa, about Dina
"Dina Murali is design director at DZ Design and a major creative force behind all of the studio's hospitality, residential and commercial projects.
Established in 2014, DZ Design started life as a small, architectural and interior design studio with just Dina and her husband, Zain Belgami, working across their dining table.
Born in India, Dina has spent most of her life in the UAE. After graduating from BLDEA School of Architecture in India, she went on to work for RC Architecture. While working at dwp and other large hospitality design firms, Dina gained valuable experience of creating spaces that always put people first.
Some of her latest completed projects Bank of Baroda regional HQ in Dubai, Citymax hotel Business Bay, Hilton Residences in Africa, luxury residential villas in Khawaneej and Dubai Hills. Dina and her team are currently working on design works for Best Western Africa, IT office in Jebel Ali, Pullman hotel in Business Bay, luxury residential properties in Al Khawaneej and Abu Dhabi, and Lulu Exchange headquarters in The Philippines.
The next stage for the company is expanding its operations to become a global practice in the next five years. Already active in India and Africa, DZ Design is looking at new and emerging markets to further its growth."