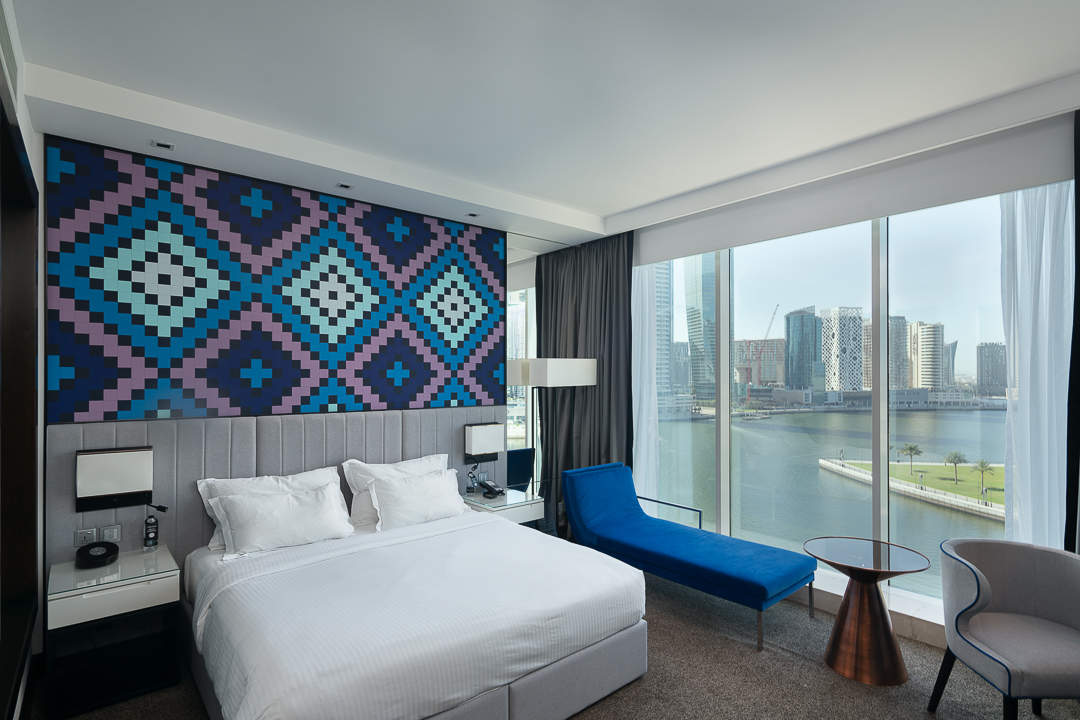 Hotel refurbishment: Pullman Downtown Dubai gets a makeover
Check out our latest hotel refurbishment project of Pullman Dubai Downtown Hotel in Business Bay. Today. we're unveiling the first phase, which included a complete makeover of all guest rooms and suites. When fully completed, the 350-key hotel will be the first business hotel in the city to fully embrace the Memphis style concept.
The property is one of the key acquisitions of Twenty14 Holdings, an Abu Dhabi-based hospitality group. Previously, the hotel followed an oriental theme, so the client asked designers to come up with concepts that represent the new brand.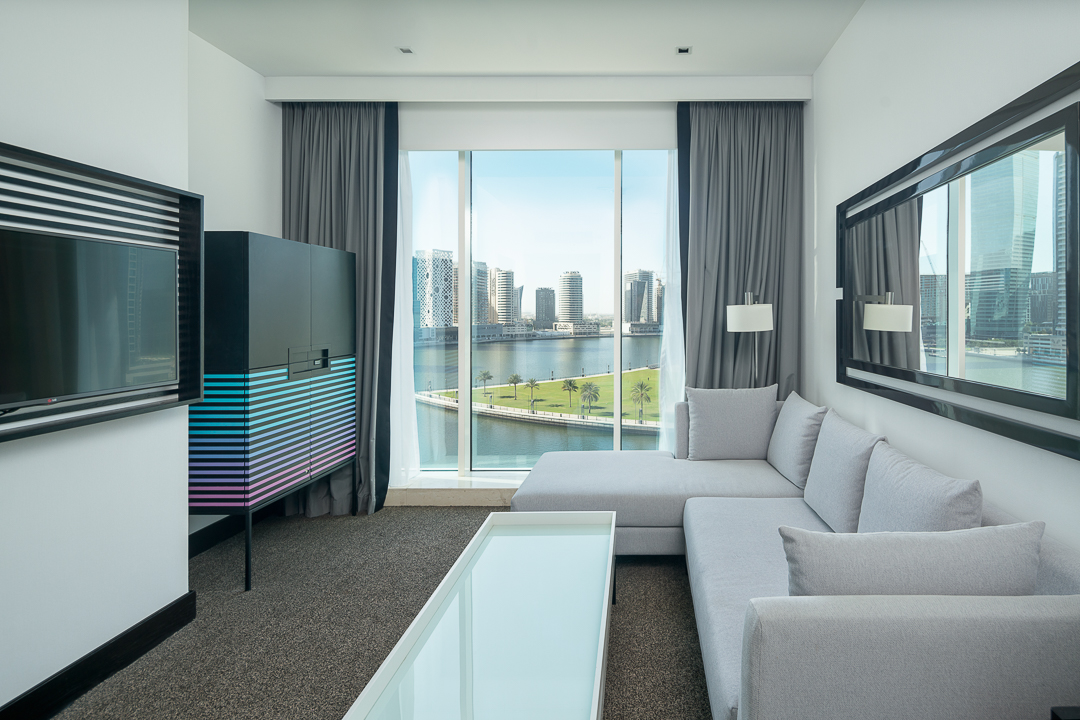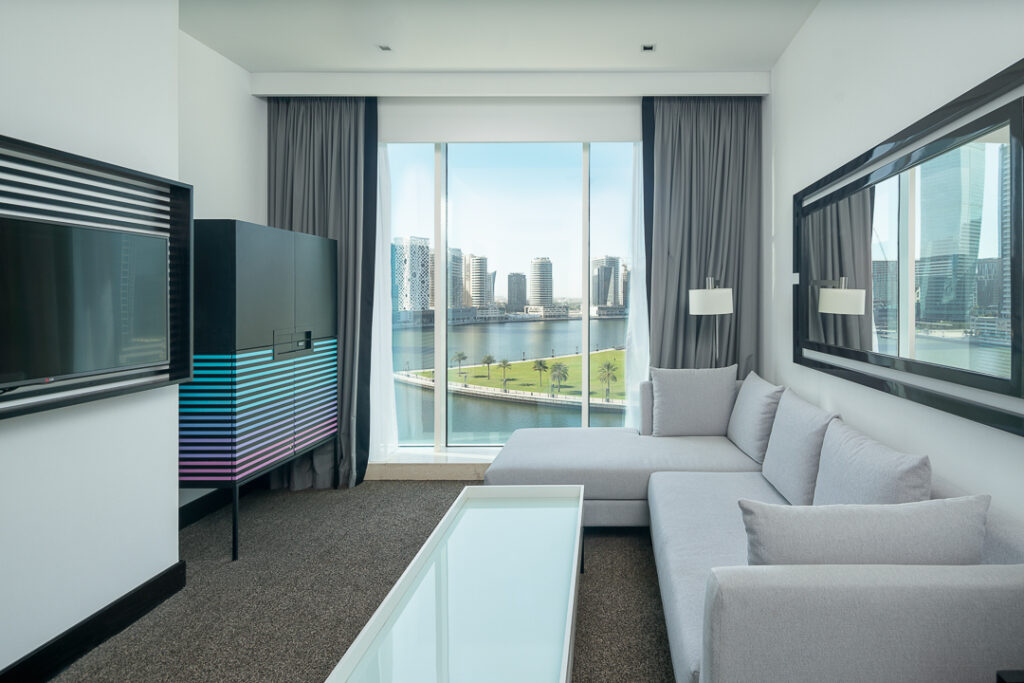 "Pullman's ethos is 'work hard, play hard' and the new designs reflect this, with bold colours and patterns. Many of our returning guests shared that the new design of the hotel now matches the vibrant energy of the city," says Mariam Sallam, PR and marketing manager at Pullman Dubai Downtown.
Additionally, the client wanted to disrupt what was considered to be an industry-standard in a 5-star business hotel. This multi-phased hotel refurbishment includes a complete renovation of all guest rooms and suites as well as all public areas and F&B venues.
"Together, we decided to look for inspiration in the Memphis Style," begins Dina Murali, design director at DZ Design. "Like many creative movements, the Memphis movement was a reaction against the status quo. Its unusual aesthetic was inspired by geometric forms of Art Deco, colour palettes of Pop Art, and 1950s kitsch."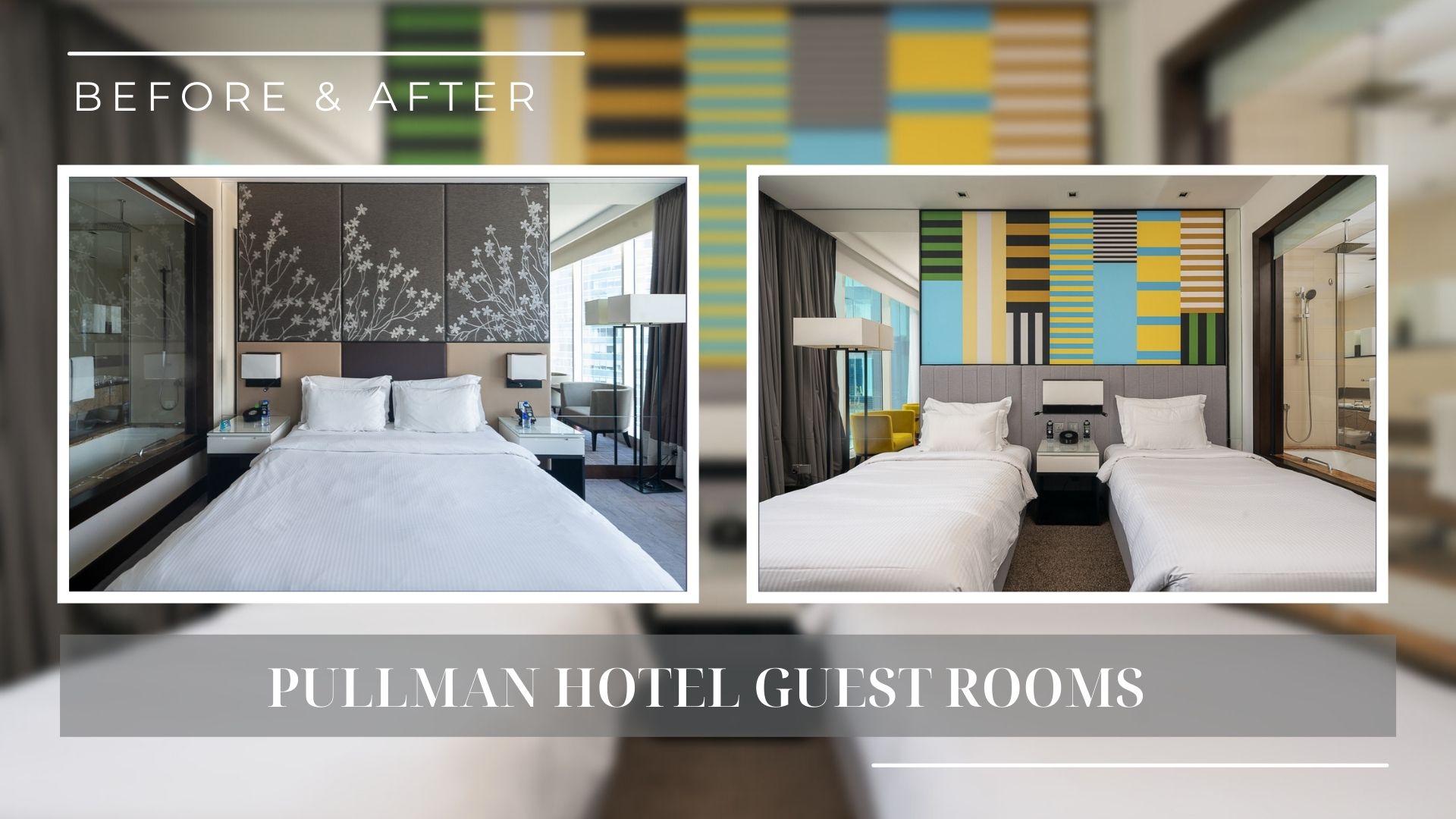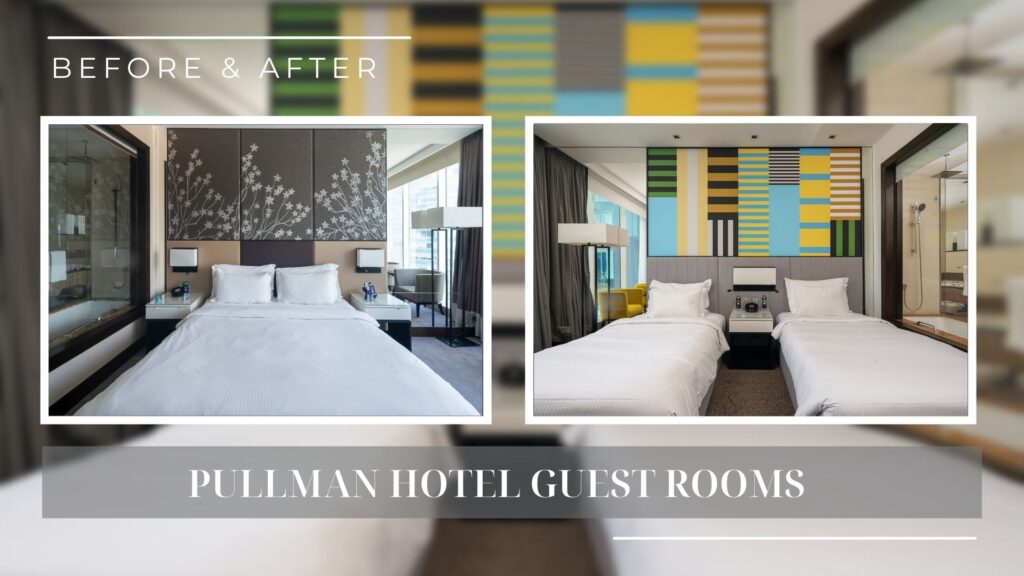 For the public spaces and rooms, DZ Design used blue, pink, purple and yellow colours combined with black and white prints and custom-designed patterns.
"Our main goal was to refresh and add life and colour to both guest rooms and public areas. We've managed to retain existing furniture and upcycle hard and soft finishes," explains Murali.
As the design of mock-up rooms took place during the Covid-19 pandemic, Dina and her team, whenever possible, sourced locally.
Key design features
She says: "All rooms are currently undergoing a complete makeover and part of our design concept was to refurbish existing furniture whenever possible. One of the focal points in the rooms and suites are headboards with custom-designed wallpaper prints."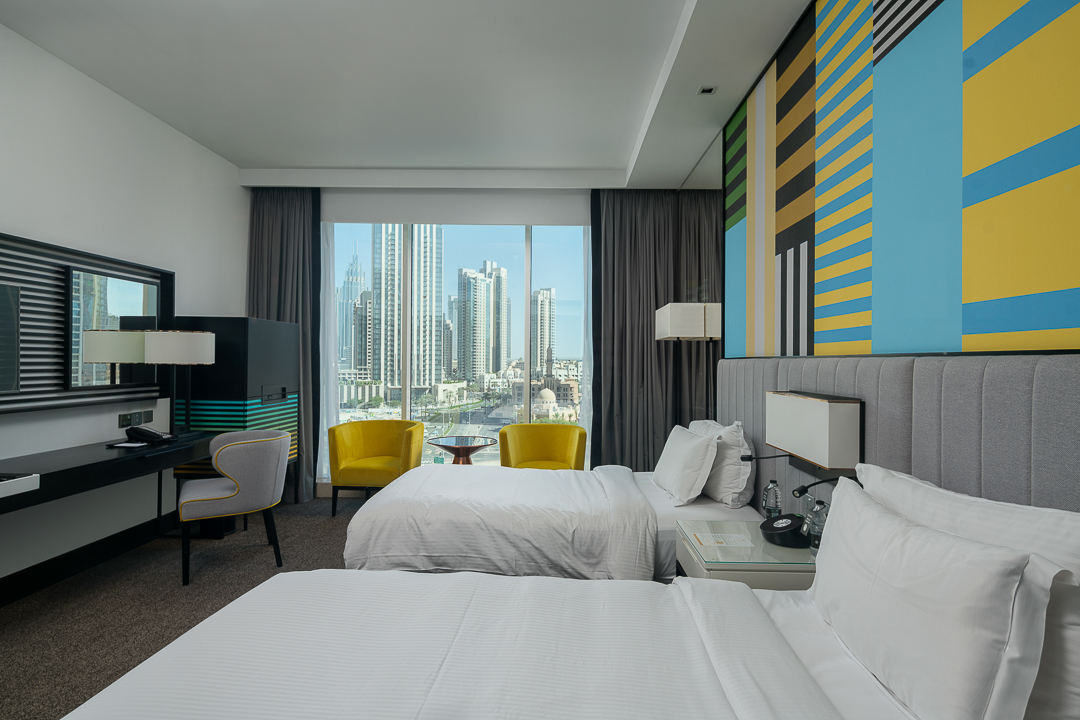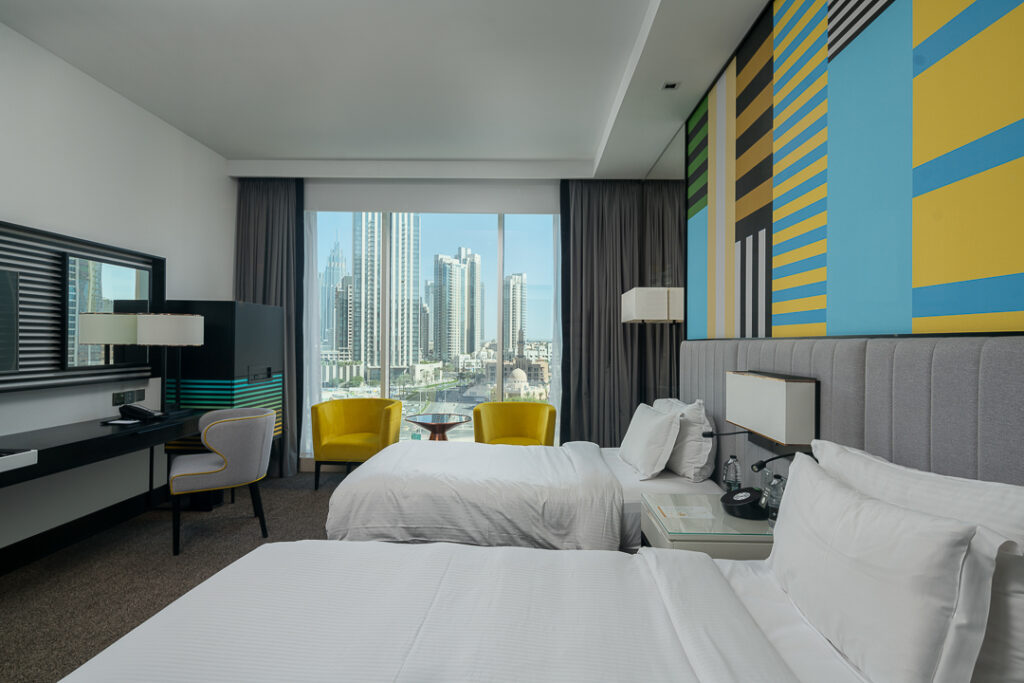 In keeping with the overall Memphis theme, the designers redecorated the minibars and cabinets in Ombre colour, which became the focal point of the guest room.
"We retouched side tables and study desks, and we repurposed TV panels and art. The frames were reused by printing new digital art onto canvases," adds Murali.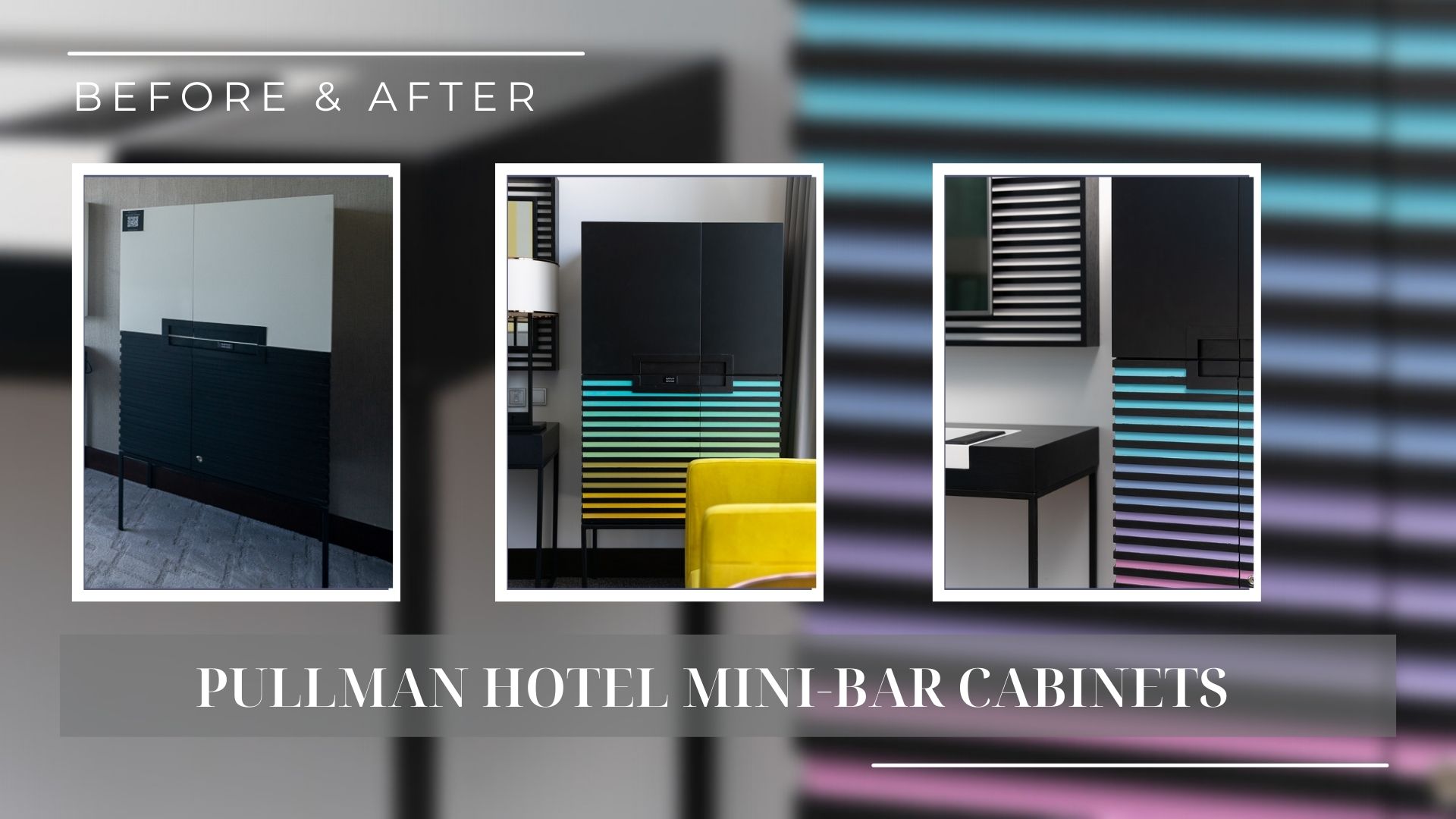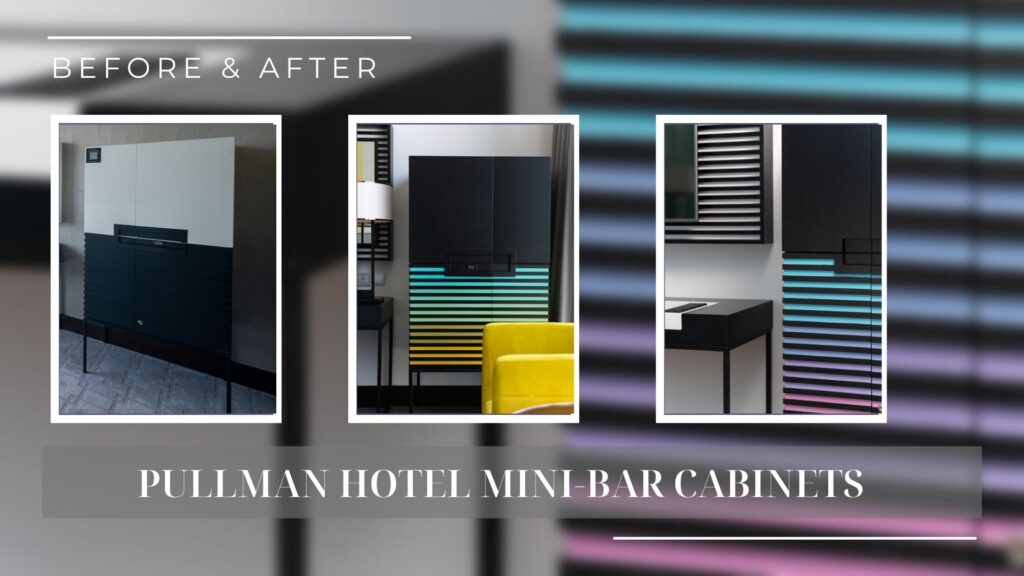 Three different types of wall prints were created on headboard walls inspired by the Memphis movement for the king, twin and suite rooms. Flat, contrasting colours combined with stylish graphic patterns characterised by black-and-white stripes – these are the ingredients of Memphis design.
Second phase: lobby refurbishment
This oriental-themed business hotel is undergoing a major facelift in phases, with three floors of guest rooms already fully remodelled and operating. Upon completion, the public areas will serve as an art hub for both business travellers and the local community.
Director of DZ Design Zain Belgami adds: "In the lobby area, we used a similar approach to design by upcycling and incorporating existing hard finishes. On the ground floor, the challenge was to retain the hard finishes while bringing this bold and unusual theme to the reception, lounge and lobby. With art as the champion, we have established the direction and received the approval of the owners, eagerly awaiting construction so we can show the rest of our designs to the public."
Smart refurbishments
Pullman Dubai Downtown Hotel is now DZ Design's fourth sustainable hospitality refurbishment project. Drawing on more than 30 years of combined experience in the fields of global hospitality design firms and retail groups, the studio has built a great reputation among its growing list of clients. Check out DZ Design's portfolio of exciting mid-size luxury hotel and residential projects.