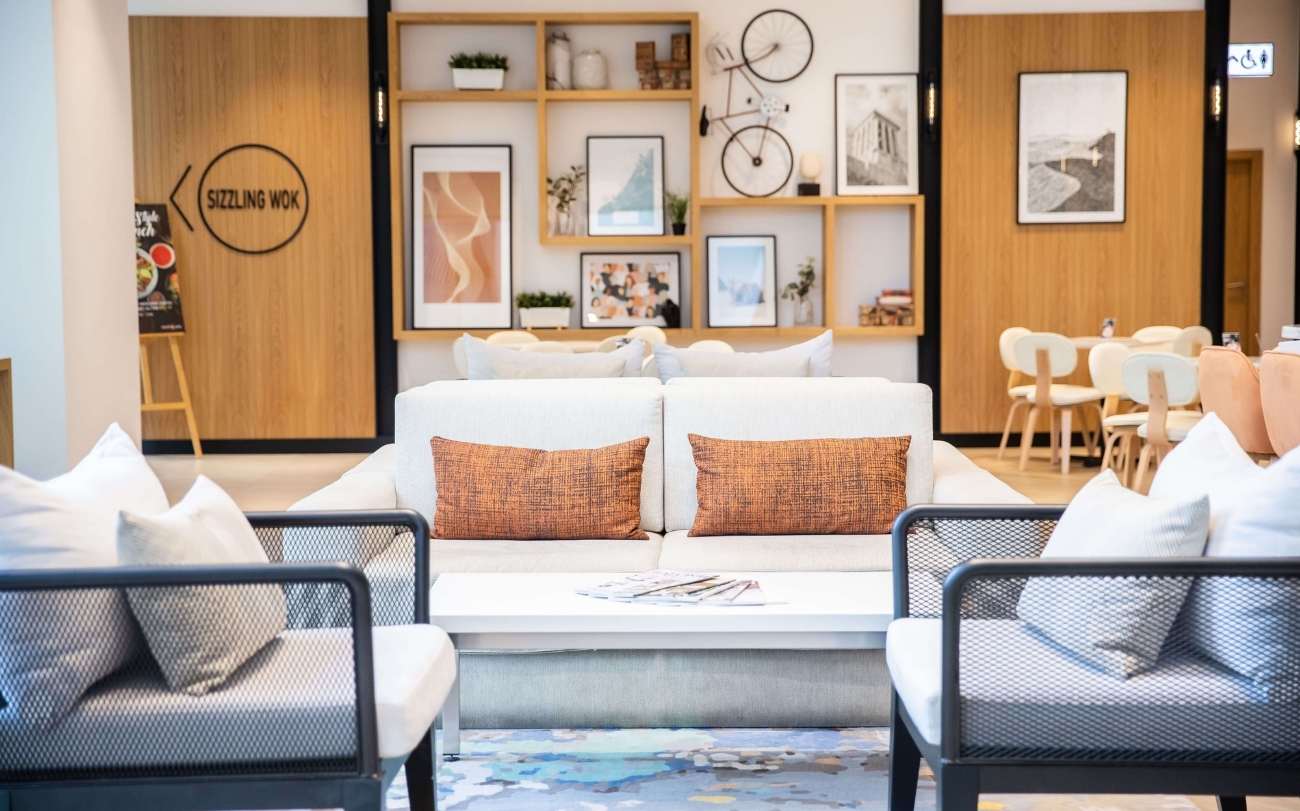 Hotel design: Citymax hotel in Business Bay gets sustainable makeover
Take a look at our latest sustainable hotel design refurbishment project for Citymax hotel in Busines Bay, Dubai. Our design studio has successfully refurbished a 372-key hotel with three million dirhams in just six weeks for hotel design and five months for construction. Moreover, we've also achieved 40% savings through upcycling, reusing and recycling existing furniture and finishes.
Project overview
Citymax hotel isn't about high-end luxury accommodation. Instead, it's a story about an exciting makeover that transformed a four-star hotel. Furthermore, we've managed to turn what were once rather lifeless interiors into spaces that fully engage visitors and are themselves vibrant destinations.
"The Citymax Hotel in Business Bay, Dubai, was ready to be opened to the public in February 2020.  However, when the owner visited the hotel, he was not satisfied with the overall look and efficiency of the space," explains Zain Belgami, our managing director.
"We were hired from four other competitors due to our previous work with the client. We also had a positive experience with the smart refurbishing of the Emirates Park Zoo and Resort in Abu Dhabi, which saw an immediate 30% increase in occupancy rate."
Project challenges
Considering that the project was fully completed, allocating an extra budget for extra refurbishment was a concern. Our team at DZ Design had three million AED to refurbish and upgrade:
lobby are
public areas
public toilets
three F&B units
spa and the gym
pool and roof top bar
meeting rooms and 22 suites
Additional 350 rooms will be refurbished during the second phase.
"We came on board the last-minute, proving that the design process that's careful yet simplified can meet tight timelines and limited budget.
This project is about the well-planned refurbishment that elevates and impacts the guest experience while recycling, retaining, and upcycling the existing finishes and furniture," adds Dina Murali, our design director and creative force behind all our projects.
Our design concept
Bold, warm, vibrant and full of life, Citymax is a distinctive hospitality experience focused on delivering high-perceived value. Due to its typology, the hotel caters to long-stay business travellers and local guests; however, with greys and whites previously dominating the interiors, the client felt space was "too clinical".
We chose a contemporary modern design, bringing warmth through timber finishes and indoor greenery associated with four-star hotels. The greatest impact was made in the lobby area. After the refurb, the lobby coffee shop doubles as a work café.
Reuse and Recycling
"They wanted us to look at the furniture details as they were unhappy with the overall look and feel and felt that the ethos of the brand did not stand out in any manner," explains Dina. "We have reused existing storage counters, shelving, tables and chairs while existing sofas were reupholstered. They've also created light fixtures from beer kegs in the bar instead of purchasing accent lighting. The furniture was also made locally, using the frames of existing units."
Lobby and reception
At the reception, the counters and furniture of the reception were removed and reused once the design was done. The tabletops were used as they were in marble, furniture was reupholstered. Large display units were removed and reused as smaller units.
Vibrancy and boldness associated with the brand identity are reflected in bold pieces of art adorning the lobby and other public areas. Our design team also conceptualized these artworks.
"Through thoughtful design and space planning, we've managed to increase the overall capacity in all public areas while adhering to the required social distancing guidelines. The lobby area was increased from 38 to 50 people; all-day dining from 60 to 91 and a roof-top pool bar from 20 to 30 people," adds Zain.
The change in clientele from overseas customers to local guests due to Covid travel restrictions increased. Refurbished roof-top pool bar and Brew Bar quickly became a local pub catering to a broader local community and surrounding neighbourhoods.
"During the Covid pandemic and its associated restrictions, the hotel became an important community resource, both as a social space and a place for activities. This made it a vital part of the neighbourhood and a valuable tool in maintaining relationships and enabling safe gatherings. Our vibrant refurbishment helped to foster feelings of community in a time when they were especially needed," concludes Murali.
Experience in hotel design
Drawing on more than 30 years of combined experience in the fields of global hospitality design firms and retail groups, our founders Dina and Zain, have built a great reputation among their growing list of clients and a portfolio of exciting mid-size hotel, luxury residential and commercial projects.
Some of our latest completed projects include:
Dina and her team are currently working on design work for Best Western Africa, IT office in Jebel Ali, Pullman hotel in Business Bay, luxury residential properties in Al Khawaneej and Abu Dhabi, and Lulu Exchange headquarters in The Philippines.