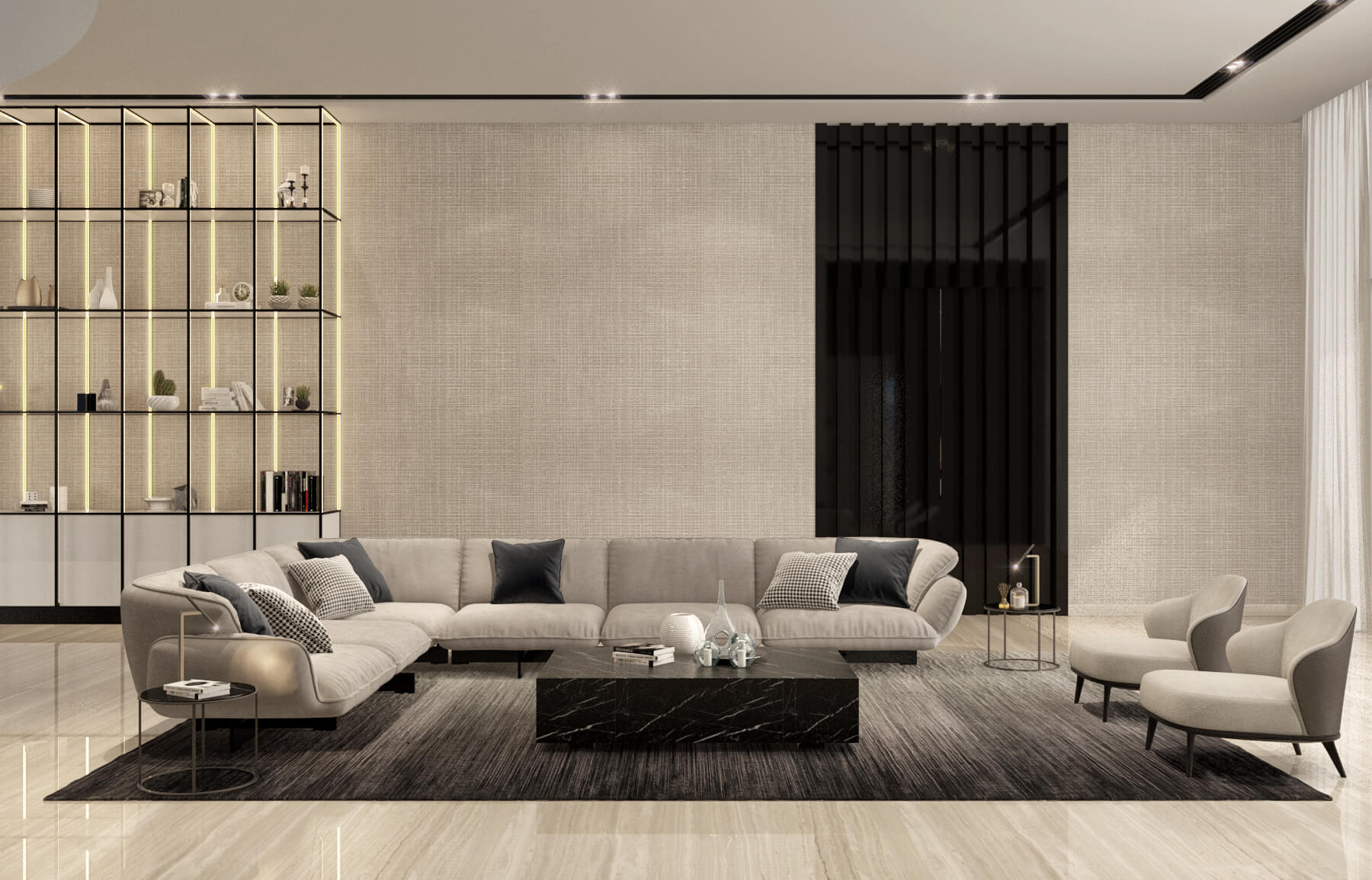 Value & Materials: Sofa materials for your living room design
Looking back at some of our residential projects in Dubai, furniture always played a key part in our overall living room design. Furthermore, the choice of fabric for your sofa can influence how the space looks, but also how it feels.
Depending on your preferred style and taste, you can choose between a more contemporary and sleek white leather, plush dark velvet or comfy beige materials if you're aiming for more laid-back and warm interiors.
So, what is the best material for your sofa? Leather vs. fabric sofa, which texture gives you the best feels?
1. Comfort
The material used to upholster a sofa plays a critical part in determining its comfort. Leather tends to heat up when you're sitting for a few hours so if you like binging on Netlfix, leather might not be the best choice and fabric definitely gives you a more comfy couch.
Check out our latest living room villa design for a client in Mizhar, Dubai who wanted a monochromatic and simple home with understated elegance and attention to detail.

2. Aesthetics
It all comes down to your individual taste and preferences but there is nothing quite as elegant as a classic leather sofa, and due to its versatility it easily fits with both minimalistic and traditional interiors. Fabrics options, on the other hand, are endless, allowing you to choose colours, but also patterns and prints.

This luxury villa is located in the heart of Dubai, the recently built residential community Dubai Hills. The house features two family rooms, and our client wanted a resort-style look and feel.
3. Durability
A good-quality leather is considerably more long-lasting than fabric. The colour of leather does not fade like fabric and a leather sofa ages like wine, so you can hold on to it even when you are redecorating the rest of your house.
4. Maintenance
Fabric tends to absorb dust, making regular vacuum cleaning mandatory. On the contrary, leather sofas can be wiped with a damp cloth.
    
The above picture features our design concept for high-end residences in Africa. The developer's brief to our team was to create luxury residences that emulate the hotel lifestyle, providing the best interior finishes and materials. 
5. Cost
And finally, fabric costs are substantially lesser than good-quality leather. However, leather lasts longer, thereby justifying its cost.
Looking for more inspiration? Make sure to visit our Instagram profile!